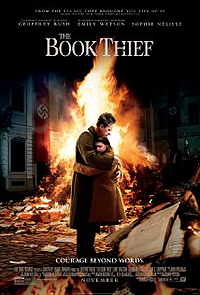 The Book Thief *
by
Brian Percival
Released by
20th Century Fox
on 27 March 2014
Genres:
Historical Fiction
Length:
2h 11m
Source:
Seen online
amazon • bol.com • imdb
While subjected to the horrors of World War II Germany, young Liesel finds solace by stealing books and sharing them with others. In the basement of her home, a Jewish refugee is being sheltered by her adoptive parents.
Cast: Roger Allam, Sophie Nélisse, Geoffrey Rush, Emily Watson, Nico Liersch, Ben Schnetzer.
When I read the Book Thief last year, I fell in love with it. With the story, with Liesel, with Rudy, with Max, with Hans, with Rosa, with Death's narration. I just loved it so much! So when I heard there was going to be a movie, I was so happy! The first trailer made me so excited, and with every picture and every trailer that was released, I got more and more certain that this was going to be a beautiful movie!
Be warned, this review might have some spoilers, if you haven't read the book or seen the movie (which you should, right now).
The Characters – Like I said, I fell in love with all the characters in the book, and it wasn't very different with the movie. I loved all the characters, I thought they were very well cast and I have to admit, Liesel's hair was something to get jealous of (I want my hair to have curls like that, oh my gods). I loved how they all kept German accents while they spoke English (and most of them said some German words in the middle of their sentences), because I had been worried that they'd 'Americanize' the movie too much. But luckily, they didn't.
The Narration – Since the book was narrated by Death, I had hoped for some narration in the movie as well. And though he didn't narrate the entire movie (of course), I liked it very much. We heard him at the beginning, at some small parts throughout the movie and at the end, which to me was perfectly done. I liked the voice, and I could have sworn I heard that voice somewhere before (I looked up who narrated him, but the name didn't seem familiar to me).
The Tears – I cried a lot during the end of the book, and I was not looking forward to seeing that part in the movie. The ending was done really well in my opinion, and I cried so much I gave myself a headache and a runny nose.
Book to Movie comparision – I'm not sure of any differences between the book and the movie, because I haven't re-read the book since the first time I read it, but I personally thought it was a perfect adaption.
In the end, I loved this movie probably as much as I loved the book. I will definitely go and see it in the cinema, and I will certainly buy the DVD as soon as it comes out! Has anyone else already seen the movie?