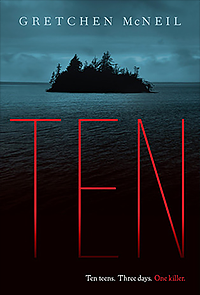 Ten
by
Gretchen McNeil
Released by
Balzer + Bray
on 18 September 2012
Genres:
Mystery
Pages:
320
Format:
Paperback
ISBN:
9780062118790
Source:
Purchased
amazon • bol.com • bookdepository • goodreads
It was supposed to be the weekend of their lives—an exclusive house party on Henry Island. Best friends Meg and Minnie are looking forward to two days of boys, booze, and fun-filled luxury. But what starts out as fun turns twisted after the discovery of a DVD with a sinister message: Vengeance is mine. And things only get worse from there.

With a storm raging outside, the teens are cut off from the outside world . . . so when a mysterious killer begins picking them off one by one, there's no escape. As the deaths become more violent and the teens turn on one another, can Meg find the killer before more people die? Or is the killer closer to her than she could ever imagine?
This book really surprised me. Because the summary said stuff about boys and 'their school's most eligible bachelor', I had expected it to be full of romance stuff, but it was a proper mystery novel which I liked very much!
The Characters – There are ten characters in this book, like the title says; Meg, Minnie, T.J., Gunner, Ben, Kumiko, Vivian, Lori, Kenny, and Nathan. I am not going to spoil the book by telling which of these characters die, of course, but I did find myself laughing out loud when after a while I realized there were only seven left (which is my favourite band, haha). In the end, when it was announced who the murderer was, it surprised me a lot, because I had never expected it of that person. Of course, when this happens, people start panicking, and blaming each other; and that really annoyed me, but that's good, because that means that the characters felt real. I had this too when I watched the Doctor Who episode 'Midnight' in which a group of people get stranded in a vehicle on a planet made out of diamonds, and something from the outside wants to get in.
All these characters felt so real to me, though I never really got sad when another one of them had died. I just wanted to know who the killer was, and I really hoped the book wouldn't end with all the ten teenagers dead.
The Romance – Like I said before, I had expected it to be full of romance, with Meg and Minnie trying to win T.J. for themselves, but it was far from that. Of course, there were moments between Meg and T.J. but those actually made me smile when I read about it. So yes, I ship it.
The Murders – There was a lot of murder going on in this book, of course. And all of them were different, the characters were all murdered in a certain way, which will make sense when you continue reading the book. One was shot through the heart with an arrow, another simply had his/her throat slit, this is going to sound a bit creepy, but I liked reading about the different ways the characters were killed.
The Story – Like I said before, it was a surprising story. I just couldn't stop reading, and I actually had to force myself to put the book down and eat, sleep or work. It was just such a thrilling story, and perfectly written as well, a real page-turner. I had started to suspect people halfway through the book, and I actually made a list of the characters, how they had died, and I circled the people I suspected. Eventually, I was completely wrong, and I actually said 'NO WAY' out loud when I read who'd really done it. And that's what I like about a book. I have read many predictable books, and that always makes me a bit sad, but I just didn't find this predictable at all! I loved the writing, and I will certainly read another book by Gretchen McNeil, probably 3:59 because there was a preview of the book in the back of Ten, and I really enjoyed it.