Shadow and Bone
by
Leigh Bardugo
Series:
The Grisha Trilogy #1
Also in this series:
Siege and Storm
,
Ruin and Rising
Released by
Square Fish
on 5 June 2012
Genres:
Fantasy
Pages:
368
Format:
Paperback
ISBN:
9780805094596
Source:
Purchased
amazon • bol.com • bookdepository • goodreads
Surrounded by enemies, the once-great nation of Ravka has been torn in two by the Shadow Fold, a swath of near impenetrable darkness crawling with monsters who feast on human flesh. Now its fate may rest on the shoulders of one lonely refugee.

Alina Starkov has never been good at anything. But when her regiment is attacked on the Fold and her best friend is brutally injured, Alina reveals a dormant power that saves his life—a power that could be the key to setting her war-ravaged country free. Wrenched from everything she knows, Alina is whisked away to the royal court to be trained as a member of the Grisha, the magical elite led by the mysterious Darkling.

Yet nothing in this lavish world is what it seems. With darkness looming and an entire kingdom depending on her untamed power, Alina will have to confront the secrets of the Grisha . . . and the secrets of her heart.
I had heard about this book series a lot the past couple of years, but the moment it made me really curious was when Lauren Destefano, author of Wither and Perfect Ruin, among others, started praising the series and the author on Twitter. I read a lot of tweets about her talking about how amazing this series was, and how you were definitely missing out on something if you hadn't read it. So, I decided to finally buy it at the beginning of this month, and read it almost immediately after it arrived. And I just have to thank Lauren for making me read this book because I fell in love.
The first thing I noticed about this book was the map at the front. I FREAKING LOVE MAPS IN BOOKS, I cannot tell this often enough, but if you write a book and you include a map I will probably love your book a lot more than I would have without the map. With maps, you can imagine the world they're in a lot better than without a map. So I found myself flipping back to the first page to see where they were at that time in the story. And the map is just incredibly gorgeous, I spend a good five minutes just staring at the map, looking at all the places, all the incredible art and wow, MAPS. Also, the little graphics where the chapter number was in were amazing as well, wow, I just love the graphics in this book! (Also, omg, I've only just realised that those white swirls on the cover are antlers…)
I loved Alina and Mal right from the start, their friendship was just so beautiful, and it pained me to see them separated. But then there was Genya who was just an amazing person. She actually reminded me a bit of Nehemia from Throne of Glass, she was a friend like that to Alina, and I just loved their friendship as well. As for the other Grisha, I just felt like they were trying to be friends with Alina because she was special (but I don't blame them, I probably would have done the same if I were in their shoes). And the Darkling. Wow. Whenever I read about him, I just imagined Guy of Gisborne as played by Richard Armitage. Yes yes yes, good. (I do realise that I imagined Chaol from ToG the same way, but u g h I just love Richard's Guy (and I haven't even watched the show yet, shame on me)).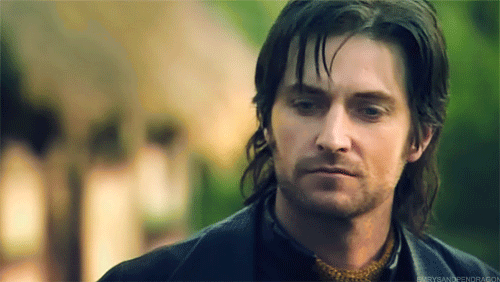 "I don't care if you danced naked on the roof of the Little Palace with him."
Possible spoiler coming up? This book kind of has a bit of a love triangle thingy going on, but I was totally okay with it because I just loved the rest of the story so much. And I must say I kind of shipped both at several points in the story. But near the end of the book, I only shipped one thing, and I will probably keep it that way for the rest of the series.
There was only one thing that made me confused at some points, and that was the mention of all those different kind of Grisha's. I'm sure most of them were explained at the beginning of the story, what their powers were, and so forth, but after a while I just had no idea what a 'Durast' or an 'Alkemi' did. The others I figured out quite quickly, but those two slipped my mind every time. I would love some sort of list, like a small Lexicon, where these things were explained. There was a small part at the end of the book, where some words were used that felt a lot like Dutch to me. Like a/the (?) 'Verloren' (lost), and 'Goed Morgen' (good morning). Yes, a little Dutch pride moment there.
The story was just very well written, and I felt myself falling further and further into this amazing world called Revka. I can honestly say I fell in love with this story. I will definitely be checking out Siege & Storm, and all the novella's written next to the series. And I definitely recommend this book to everyone who wants to read a good story. Read it!