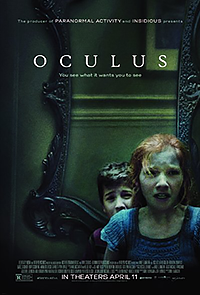 Oculus *
by
Mike Flanagan
Released by
20th Century Fox
on 17 April 2014
Genres:
Horror
Length:
1h 44m
Source:
Seen online
Cast:
Karen Gillan, Brenton Thwaites, Katee Sackhoff, Rory Cochrane, Annalise Basso, Garrett Ryan, James Lafferty.
amazon • bol.com • imdb
A woman tries to exonerate her brother, who was convicted of murder, by proving that the crime was committed by a supernatural phenomenon.
I don't watch horror movies often, mainly because I don't react well to them. I have nightmares for days, sometimes even weeks, after watching one and sometimes I hardly sleep at all. But sometimes, there is a horror movie that I just HAVE to see. Oculus is one of those movies. First, I wanted to see it because Karen Gillan plays in it, and I knew her from Doctor Who (where she played Amy Pond). Then, when I watched the trailer and read the summary, I also wanted to see it because it just sounded amazing. I didn't get to see it in the cinema, but I don't really mind that with horror movies, because nine out of ten times, the sound in the cinema is way too loud.
Personally, I thought the trailer made it sound a lot scarier than it actually was, because I didn't get too scared when watching the movie. Maybe that is because I spend a lot of time looking at my phone when I thought it would be scary (you know; when the 'scary' song starts playing (I think every movie has one) or when the music cuts away completely). But still, the scary moments that I did see weren't really frightening. Maybe I'm starting to get used to horror movies.
Throughout the majority of the movie, we only see four characters – two of them we see when they're children and adults – Kaylie, Tim, and their parents. I liked this, because there weren't really any other characters you had to consider; perhaps Kaylie's fiance but we don't really see him a lot in the movie. Of course, I really liked Kaylie, because I am a big fan of Karen Gillan; I thought the other actors were cast well too and that made the movie a lot better as well. I know Karen as Amy, of course, with an amazing Scottish accent, but for this movie she had to talk with an American accent of course. Personally, I think she did very well, though sometimes I think her actual accent bled through a bit. (But her accent was a lot better than Emma Watson's accent in Perks, imo).
There was one thing I didn't like though, and this might be a bit of a spoiler, but this movie has a lot of flashbacks.  I guess you could say half of it happens in the present; with twenty-three year old Kaylie and twenty-one year old Tim; and the other half happens in the past, ten years ago. But it's also better, because usually in a horror movie, the thing that starts the story happens at the beginning of the movie, which is not always a good idea – here, you learn bit by bit what actually happened ten years ago, and why Kaylie thinks the mirror is haunted. Still, I think it would have been nicer if they had made it clear they were flashbacks, like with 'ten years before/ago' or something below (yes throughout the entire movie); or give it another colour scheme, maybe make it look old/grey-ish or something.
And the ending. Wow. View Spoiler »I guess they'll have to make a sequel, because I really want to know what's going to happen to Tim now, and what's going to happen to the mirror, because even though Kaylie was determined to prove it was haunted and destroy it eventually, she never got the chance, and now I am guessing it's still going to the person who bought it – I want a sequel about that person or that family, and about how they perhaps find out what is going on with the mirror and finally destroy it. « Hide Spoiler
In the end, I really enjoyed Oculus, though it'll take me a while to stop looking at my mirror as if it can attack me at any moment. If you're a fan of horror movies, I definitely recommend this one to you!
My opinion in one gif: