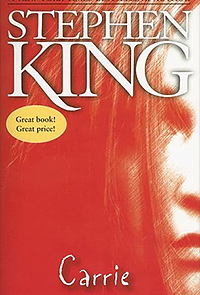 Carrie
by
Stephen King
Released by
Pocket Books
on 5 April 1974
Genres:
Horror
Pages:
253
Format:
Ebook
ISBN:
9781416524304
Source:
Purchased
amazon • bol.com • bookdepository • goodreads
Carrie knew she should not use the terrifying power she possessed... But one night at her senior prom, Carrie was scorned and humiliated just one time too many, and in a fit of uncontrollable fury she turned her clandestine game into a weapon of horror and destruction...
For King's March, I decided to read Carrie, as I really liked both movies (the one from 1976 and the one from 2013) and I wanted to know if the book was as good as those movies! And it was!
Carrie has a lot of articles, interviews and passages of books in between the story, and though I liked it at first, it started to annoy me near the end. Because I really just wanted to read the story through Carrie's eyes, or through someone else's eyes for that matter (and I don't like multiple POV's), not through a police interrogation, or a passage from a book someone who'd been there had written. So yeah, that was actually the main reason I didn't give it more than three stars (or, Daleks actually).
I quickly started to hate on the group of girls that bullied Carrie at the beginning of the book, and I hated them more and more throughout the whole book. Especially Chris Hargensen; she just reminded me of all the people that bullied/teased me throughout my entire school time.
Speaking about the movie(s), of course the book was different from both movies (though I don't remember much of the 1976 one), especially prom night and the events that happen afterwards. That was just completely different from the book in the new movie.
But I really liked the way the Prom Night events were described, and though like I said before, I was annoyed at all the articles and interviews (I just skimmed through most of them near the end), I really liked the story and it really made me want to rewatch the movies (to see if there's any differences, not just between the movies and the book, but between both movies as well).
I like Stephen King's writing, and it certainly has made me want to read more books by him. I still can't believe I've never read any books by him before now.