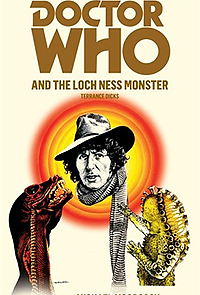 DW and the Loch Ness Monster
by
Terrance Dicks
Series:
DW Library #40
Released by
BBC Books
on 15 January 1976
Genres:
Science Fiction
Pages:
192
Format:
Paperback
ISBN:
9781849904759
Source:
Purchased
amazon • bol.com • bookdepository • goodreads
Centuries ago, a Zygon spaceship crash landed in Loch Ness. Now, with their home planet destroyed, the alien creatures plan to take over Earth. Their most powerful weapon is a huge armoured dinosaur-like creature of terrifying power that they brought to earth as an embryo - the Loch Ness Monster.

The Doctor, Sarah and Harry soon discover that the Zygons have another weapon. They can assume the identity of any human they capture. Who knows which of their friends might really be a Zygon?

UNIT faces one of its toughest battles as Broton, Warlord of the Zygons, puts his plan into action and the Loch Ness Monster attacks.

This novel is based on a Doctor Who story which was originally broadcast from 30 August to 20 September 1975.

Featuring the Fourth Doctor as played by Tom Baker, with his companions Sarah Jane Smith and Harry Sullivan and the UNIT organisation commanded by Brigadier Lethbridge-Stewart.
I have read quite a few Doctor Who books in the past year, but this is the first Classic Who book that I've read. I found this one interesting, because of the Loch Ness Monster, and I had been meaning to watch a couple of the Fourth Doctor's episodes, but there are so many that I had no idea where to start. Now that I've read this book, I really want to see the episode(s) that this book was based on.
At first, I was reluctant to read this book, because I thought it might be too 'hard', like I had found a lot of classic books (like The Great Gatsby, Alice in Wonderland, etc), with words that we don't use anymore nowadays, but this book really surprised me, because it was really fun and very easy to read. I started it yesterday night, and finished it just now. It might also be because I was genuinely interested in this book, and the story was actually really interesting.
Like every other Doctor Who book, this one is written in multiple POV's; the Doctor's, Sarah Jane's, Harry's, the Zygons'; there were a lot, and like with every other DW book it didn't bother me much. It was actually needed to tell the story, to tell you what was really going on.
There was a tiny issue with two character names though. There was a (human) character called Benton, and the Zygon character called Broton, and I got really confused whenever the humans were interacting normally with Benton, because I had the idea it was the Zygon. Other than that, I really enjoyed this book, and I will probably try to read more Classic Who books (and watching some of the episodes, of course).
The Classic books are all based on the episodes I believe, so if you don't feel like looking up and watching a lot of episodes, I suggest you try the books instead! And I recommend Doctor Who and the Loch Ness Monster!