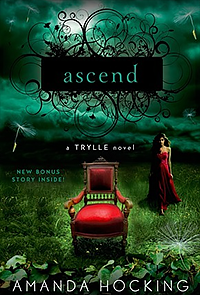 Ascend
by
Amanda Hocking
Series:
Trylle #3
Released by
St. Martin's Griffin
on 24 April 2012
Genres:
Fantasy
Pages:
326
Format:
Ebook
ASIN:
B004ISLS24
Source:
Purchased
amazon • bol.com • bookdepository • goodreads
Wendy Everly is facing an impossible choice. The only way to save the Trylle from their deadliest enemy is by sacrificing herself. If she doesn't surrender to the Vittra, her people will be thrust into a brutal war against an unbeatable foe. But how can Wendy leave all her friends behind... even if it's the only way to save them?

The stakes have never been higher, because her kingdom isn't the only thing she stands to lose. After falling for both Finn and Loki, she's about to make the ultimate choice... who to love forever. One guy has finally proven to be the love of her life—and now all their lives might be coming to an end.

Everything has been leading to this moment. The future of her entire world rests in her hands—if she's ready to fight for it.
Honestly, I don't really know what to think of this book. I liked it, but I also didn't like it. The main reason why I didn't like it was Loki. I just really can't stand him, and that's not just because of his name (tumblr kinda ruined (the norse god) Loki for me, with all their fangirling about him). So most of my notes were about how I am not liking Loki being there. I will not talk about him any more in this review, though.
In this story, Wendy is supposed to marry Tove, who's the only guy in the book that she isn't in love with I believe, and of course, bad things happen. The Vittra still want to have Wendy for their own and Wendy makes some decisions that really made me want to bang my head against a wall. It's a good thing this was the last book in the series, because if there had been another one after this, I probably wouldn't have read it (okay I am lying, I can't stand to not finish a series, so I probably would still have read it, shh).
The only person in the book that I actually liked was Willa, and I really hoped that nothing bad would happen to her. View Spoiler »And nothing did happen to her luckily « Hide Spoiler Other than that, I couldn't relate to any of the characters at all, and I was honestly quite happy when the story ended (with a happy ending for everyone, yay).
The biggest thing that this book lacked, to me, was action. Sure there were some fights, and of course the 'big' fight at the end (of which we didn't hear anything, apart from some 'shouting in the distance'), but I really wanted an action-packed conclusion to this series. But that's just me, I like books with a lot of action, and the least amount of romance if I can help it.
But hey, in the end I enjoyed the book, apart from the whole romance thing between he-who-shall-not-be-named and Wendy.