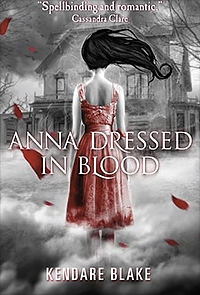 Anna Dressed in Blood
by
Kendare Blake
Series:
Anna #1
Also in this series:
Girl of Nightmares
Released by
Orchard Books
on 17 October 2011
Genres:
Horror
Pages:
373
Format:
Paperback
ISBN:
9781409320723
Source:
Purchased
amazon • bol.com • bookdepository • goodreads
Cas Lowood has inherited an unusual vocation: He kills the dead.

So did his father before him, until he was gruesomely murdered by a ghost he sought to kill. Now, armed with his father's mysterious and deadly athame, Cas travels the country with his kitchen-witch mother and their spirit-sniffing cat. They follow legends and local lore, destroy the murderous dead, and keep pesky things like the future and friends at bay.

Searching for a ghost the locals call Anna Dressed in Blood, Cas expects the usual: track, hunt, kill. What he finds instead is a girl entangled in curses and rage, a ghost like he's never faced before. She still wears the dress she wore on the day of her brutal murder in 1958: once white, now stained red and dripping with blood. Since her death, Anna has killed any and every person who has dared to step into the deserted Victorian she used to call home.

Yet she spares Cas's life.
Okay, first of all I have to tell you that I was a bit disappointed with this book. I had hoped it would be a really creepy, scary story, that I would have to sleep with the lights on – as the text on the back of the book says – but it was actually not that scary. Honestly, I felt like I was reading an average YA novel, other than the fact that the main character was a boy and Anna a murderous ghost. Okay, there were some parts where I was freaking out, like the part where they first meet Anna, and a part somewhere close to the end of the book.
Even though it wasn't really scary, I found it a nice book to read; the writing was good, and I really liked all the characters (apart from the 'Trojan Army' as Thomas called them). I liked Cas, I liked Anna, I liked Cas' mum (and her cat), Thomas and his granddad, Carmel (though I kept on reading Caramel), yes they were good characters.
I found myself comparing this book to the show Supernatural a lot, because the first chapter of the book (in which Cas 'kills' the ghost of a hitchhiker) reminded me a bit of the first episode (it wasn't completely the same, but it both included a hitchhiker (sort of) and a bridge). The fact that the main character's name was Cas (I had hoped it would be Castiel, but alas), and the fact that he hunts and kills ghost for a living, like his dad used to do (you know, the family business), yeah, a bit like Supernatural. Not saying it's a bad thing, in fact, it made me like the book a lot more!
Personally, I felt like the romance thing View Spoiler »between Cas and Anna, in case that wasn't obvious yet « Hide Spoiler wasn't really necessary, but that's just because I am not really a big fan of romance (I like it, sometimes, and I do 'ship' people a lot, but sometimes I just wish that there weren't that much (YA) romance novels in the world).
In the end, I found Anna Dressed In Blood a very good story, and I am certainly going to read the second book!