I don't remember where I got this from anymore, but it's a rather popular tag at the moment, as I've seen several booktubers do this the past month. So yeah, I decided to fill it in as well!

A BOOK THAT TOTALLY SHOULD HAVE HAD A SEQUEL
I honestly loved All Our Yesterdays by Cristin Terrill, and I was incredibly sad to find out there wasn't going to be a sequel to this book. Yes the story had a nice ending, and the short story she published (after announcing there wasn't going to be a sequel) was nice too, but yeah, I still have some questions about this book.

A BOOK/SERIES THAT TOTALLY SHOULD HAVE HAD A SPIN-OFF
Oh god, ehm okay I've done some thinking, and I would have really loved to have a spin-off series from Annabeth Chase's point of view. Not the events from Percy Jackson per se, but perhaps from before Percy came into her life – that would have been really cool. Because I honestly love Annabeth as a character and as much as I loved her chapters in the Heroes of Olympus series it wasn't enough.. (did she have any POVs in the PJ series itself? Was that series even with multiple POV's I honestly don't remember, oh my gods). Anyway, yeah, gimme an Annabeth Chase series please.
AN AUTHOR THAT SHOULD TOTALLY WRITE MORE BOOKS
I'd love for J.K. Rowling to write more books under her own name. I mean I enjoyed her first Robert Galbraith book, but I am not a huge fan of detective books so I am not sure if I'm going to read the rest of the series. And while we're at it, I'd love for her to write more children's books or young adult books even. (Yes there is another Harry Potter book coming out but that's technically not 100% written by her, so ehm yeah). Other than that I would love for Maureen Johnson to write the fourth Shades of London book because I need it.

A CHARACTER THAT TOTALLY SHOULD HAVE ENDED UP WITH SOMEONE ELSE
To be honest, nine out of ten times I root for the one that the main character eventually ends up with, but at the moment I am not too happy with Aelin/Celaena being with Rowan because I just don't like him?! My ship View Spoiler »Chaol/Celaena « Hide Spoiler in the Throne of Glass series has been sent to Davey Jones' locker ages ago, but I still have a tiny bit of hope.

A BOOK THAT TOTALLY SHOULD HAVE ENDED DIFFERENTLY
I personally would have loved for Allegiant to have ended differently, but I get why Veronica decided to do that instead of the happily ever after scenario. Also The Hobbit, because in the past couple of years I grew attached to all those stupid thirteen dwarves and that is why the ending of that book hurts so much.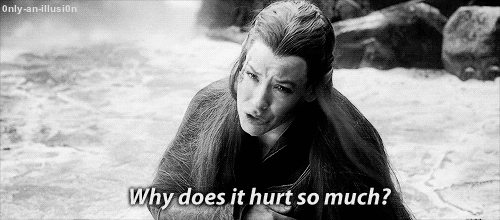 A BOOK/SERIES THAT TOTALLY SHOULD HAVE HAD A MOVIE FRANCHISE
The Grisha Trilogy and Six of Crows (and of course the upcoming Crooked Kingdom). Basically just whatever Leigh Bardugo has written so far. As much as I would rather see this as a TV series, I think they would be nice as movies as well. Also Fangirl by Rainbow Rowell, because I want to see a movie about a girl writing fanfiction!

A BOOK/SERIES THAT TOTALLY SHOULD HAVE HAD A TV SHOW
*hem hem* Harry Potter. The Percy Jackson series ánd Heroes of Olympus ánd Magnus Chase. The Lunar Chronicles, The Vampire Academy series, Tomorrow When the War Began (and that is in fact happening! The first episode is airing today!!!), Delirium (but better than that crappy version from two/three/four years ago?); yeah basically I would love to see all of my favourite bookseries as TV shows. All of them.

A BOOK THAT TOTALLY SHOULD HAVE HAD ONE POV
I do not like multiple POV's at all. Unless it's a chapter a person, then I can tolerate it. As for one specific book that could have gone without a multiple POV? Allegiant by Veronica Roth. Without question. View Spoiler »Tris and Four sounded exactly the same in my head. Also they could have switched to Four's POV after Tris died so yeah. That may have been a bit weirder, but idk I just didn't like this multiple POV thing at all. « Hide Spoiler

A BOOK THAT TOTALLY SHOULD HAVE HAD A COVER CHANGE
Ehhhhh, no honestly I cannot think of any book at the moment that should have had a cover change.

A BOOK/SERIES THAT TOTALLY SHOULD HAVE KEPT THE ORIGINAL COVERS
Across the Universe by Beth Revis. The first cover was perfect. The second book was perfect too. And then came the monstrosity that is Shades of Earth. I don't know why the publisher decided to give this third book a completely different cover than the first two books, but I don't like it.
A SERIES THAT TOTALLY SHOULD HAVE STOPPED AT BOOK 1
*cough*themortalinstrumentswaitwhatwhyamistilltalkingaboutthisseries*cough* I think I am going to go with a series that technically is not a series but still, Dangerous Girls by Abigail Haas. I loved that book and I was literally flabbergasted by that ending. And then along came Dangerous Boys which I didn't enjoy that much and for me the suspense was kind of gone. DG was great and honestly one of my favourite books of all time, but DB sounded a bit like a repeat of that first success (and it didn't work out for me).
Did you do this tag?
---