I found this nice Inside Out book tag on Tumblr, via A Word Shaker; and I thought it might be nice to fill it in. I haven't seen the movie yet (shame on me), but I will do that very soon!
Joy: A book that brings you joy
Harry Potter of course. And the most recent book that brought me joy was Six of Crows by Leigh Bardugo. Oh my gods, I love her books so so much!
Disgust: A book that grossed you out the most
Ehm well any book that has incest in it. Like How I Live Now by Meg Rosoff. I just don't get how people can write books about family members being in romantic/sexual relationships. I also don't get all those people on Tumblr that 'ship' Sam and Dean Winchester or Fili and Kili. THEY ARE BROTHERS FFS.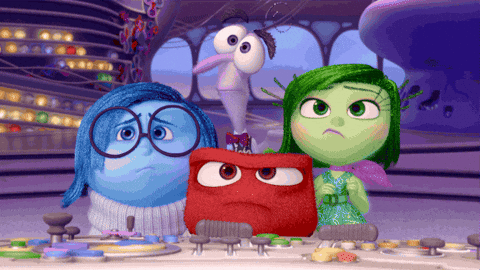 Fear: A book that scared you the most
The last time I was really scared when reading a book, was when I was reading Dollhouse by Anya Allyn – but that was because there was a clown/doll thing in it, that just terrified me. If we're talking about another sort of fear, the last time I was afraid for a book was when I read Library of Souls by Ransom Riggs – because it was the last book in the series, and I was so scared something would happen to the characters I love.
Sadness: Which book made you cry the hardest?
Allegiant by Veronica Roth. If you don't count the Harry Potter books I've reread since, then yes it was Allegiant. Because oh my gods that book just broke my heart in two. The last book that made me cry was Frostbite by Richelle Mead. In the middle of the night, while I had to get up early the next morning.
Anger: Which book pissed you off the most?
The Mortal Instruments by Cassandra Clare, and I guess y'all know why. Also the latest book that pissed me off was The Copper Gauntlet, surprisingly also a book by Cassandra Clare. Oh well.
Did you do this tag?
---