Aaaaaand poof another month is over. May was my birthday month, and as you probably saw in my Behind the Scenes post. I also purchased and received some really cool things and books this month, kind of breaking my 'buy not more than three books a month' ban. Oh well, next month!
Books bought, received
Other purchases
Blue dress for Queenie – I went to Aliexpress to look for a dress for Queenie Goldstein. I did get a pattern for her dress, but right now I'm not skilled enough to try and make it myself. So for now, I'll have to do with this dress, with is almost perfect. I might cut out a v-neck at the back as well because Queenie's dress has that too.
X-23 shirt and denim jacket – At some point last month I decided I was going to cosplay Laura Kinney from Logan. I am too old and too tall to cosplay her, technically, but I really wanted to because I love her character. I had everything already, basically, I just needed this t-shirt, and the claws (which will happen soon, I hope).
2 pairs of trousers – I'm going to Lanzarote in July, which is probably going to be warm, so I needed some nice airy clothes. Honestly, I might not even take these with me, but they are very comfortable and I'm happy I bought them.
Slippers – I also wanted some slippers that aren't flip flops, so I added this to my order. They're really comfortable even though they're a bit hard to put on.
High-waist shorts – I also finally got myself a new pair of shorts. I hadn't owned a pair in years, so when I saw these on the Lidl website, I decided to add them to my order as well.
Jessica Jones funko pop – We went to Haarlem to see The Circle, and took a detour through the Popshop. I saw this JJ funko and decided I wanted to buy it. I had enjoyed the show, loved the character and even cosplayed her. Yeah, I needed it.
Jack Daniels Honey – My sister and her boyfriend went to Valencia for a week, and they bought this for me as a thank you for watching their pug for that time.
New Quicksilver wig – I needed an accurate wig for my X-Men Quicksilver cosplay, as I had been using one based on Age of Ultron Quicksilver's hair. I will still be using that wig for the accurate cosplay, but I kind of wanted a grey one for my DOFP/Apocalypse cosplays.
Funko Mystery Minis – Tanja decided to buy me more gifts, so she got me two mystery minis. One X-Men (I got Storm) and one Harry Potter (I got Hermione). From my friend Cindy, I also got a mystery mini, a Beauty and the Beast one, which had Belle in her celebration dress.
Logan Funko Pop – I also got this Logan funko from Tanja, and he's really cute and I love it so much!
Harry Potter pins – My sister got me a bunch of small things for my birthday, including these Harry Potter pins. This set has a Slytherin pin, and a Deathly Hallows one which I've put on my denim jacket already.
Pokémon flip flops – She also got me these really cool Pokémon flip flops. I think flip flops are really handy when it's warm and you don't want to wear socks but you also don't want to walk around barefoot.
Harry Potter socks – But she also got me more Harry Potter socks! Socks are always a good thing to give me because I can never have enough socks!
Thor Pez dispenser – The last thing she got me was this Pez dispenser. I'd been eyeing this one for so long, and now I finally have it! I don't think I even love Pez candy that much, but I just love this dispenser!
Polaroid camera + Instant film – I asked my mum for a backpack for my birthday, but she couldn't find a good one. So instead, she and my sister got me this Polaroid camera, which is also something I've wanted for years.
Shower foam – From my gran, I got this nice smelling shower foam and technically I also got the holiday to Lanzarote for my birthday!
Read, watched, started
Books 
Movie/TV
Did I read/watch what I said I would
Honestly, it was a crappy month for reading and movies to be honest. I only watched two new movies, and I spent way too much time reading The Circle, so I can already say that I definitely did not read or watch what I said I would at the end of last month.
Did I read: The One Memory of Flora Banks, The Book of Life Novelization, Replica, Caraval, The Circle, Hex
Did I watch: Legion S1, The Circle, POTC 5, A Dog's Purpose, King Arthur, Iron Fist
Okay, technically I already finished The One Memory of Flora Banks last month, so it doesn't count. I am reading Hex at the moment, but other than that I didn't read Replica or Caraval, though I did add that last one to my 'Currently Reading' shelf on Goodreads. As for movies, I saw the Circle and King Arthur, but other than that I haven't been in the mood to watch anything at all. I rewatched some old movies, and basically spent a lot of time watching regular TV.
Next Month
Next month is June, and I really want to pick up reading again. I am going to make a short list of books I want to read, and I am going to just pick some other random books throughout the month. I am trying to spread out my graphic novels over the year, so I won't spend a month just reading graphic novels because I really want to balance it all out.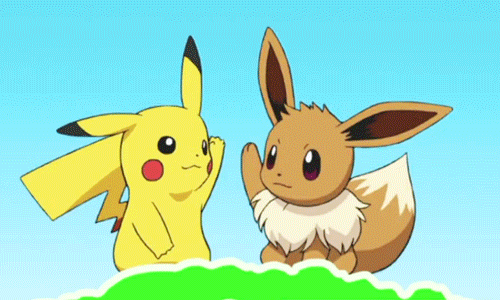 Seeing as the weather is getting nicer again, I hope we're going to go Pokémon hunting again very soon. Other than that, I don't really have anything planned this month. I'm not going to 'promise' myself to watch any TV shows because I already know I'm not going to hold myself to that promise.
Want to read: Rebel Rising, Guardians of the Whills, Caraval, Hex
Want to see: The Mummy, Wonder Woman, Pirates of the Caribbean 5
See you next month!
---